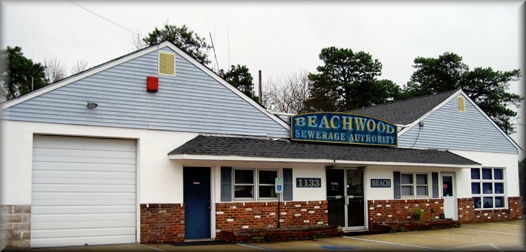 PAYMENTS
Sewer charges are payable in accordance with the schedule of service charges adopted by the Authority.

Such charges are payable quarterly on the first day of January, April, July, and October as due.

Interest at the rate of 1 1/2% per month will be charged for any quarterly payment not paid within 10 days after due date.
Payment by Mail: Remittances requiring receipt must be accompanied by the entire bill with a self addressed stamped envelope.
Otherwise detach the appropriate stub and mail with your check.
Make check payable to:
Beachwood Sewerage Authority

Mail to:
1133 Beach Avenue
Beachwood, NJ 08722
Payment by Credit Card:

Please Note:
All major credit and debit cards are accepted.
ACH / E-check payments are accepted.

Convenience charges are assessed by the company processing the electronic payment. The Beachwood Sewerage Authority is not charging or collecting the convenience fee.

The following are the convenience fees associated with paying your bill online.
If you pay by ACH or E-check, there is a $1.05 convenience fee.
The fee for debit and credit cards will be 2.95% of your total bill.

The interest listed on delinquent amounts is calculated to today's date.
Please contact our office to obtain interest calculations for a future date.
Click here to make an Online Credit Card Payment
Beachwood Sewerage Authority Commissioners
Chair
Ronald McNabb

Vice Chair
Matthew Brown

Secretary
Robert G. Tapp

Commissioner
John Risk

Treasurer
Carl Schmidt
Meeting Dates

February 16, 2016
March 15, 2016
April 19, 2016
May 17, 2016
June 21, 2016
July 19, 2016
August 16, 2016
September 20, 2016
October 18, 2016
November 15, 2016
December 6, 2016 (Public hearing on Rates/Budget)
January 17, 2017
February 7, 2017 (Reorganization Meeting)
Hours of operation:
8:30 a.m. to 4:30 p.m.

Phone:
732-240-2608